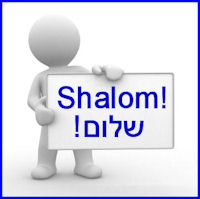 The Modern Hebrew (Ivrit) teachers at LSGS believe that by learning Ivrit pupils are gaining much more than just a MFL. There is an additional feeling that pupils develop their Jewish identity.
Pupils do exceptionally well in the GCSE. The most experienced and able Ivrit speakers take the GCSE a year or two early.
GCSE Modern Hebrew has a Foundation Tier (grades 1–5) and a Higher Tier (grades 4–9). The GCSE is comprised of 4 sections: listening, speaking, reading and writing.
KS3 Term by Term Plan
Ivrit – Year 7
 

 

Term 1

Introducing myself – be able to introduce yourself, names, ages, where you live

Music –talk about what music you like and don't like, say what instruments you/your family play

Term 2

 

 

Travelling in Tel Aviv – being able to give information about your home town, compare two places, ask and understand directions, methods of transport, what activities you enjoy

Sport – talk about sports, compare sports in two countries, what you enjoy and why, explain your daily routine, telling the time,

Term 3

Holidays – describe where you and others go on holiday, including who and for how long, talk about what you do on holiday, express your opinions about holidays   

End of year assessment
Ivrit – Year 8
 

 

Term 1

New school year – talk about preparing for the new school year, express feelings and opinions about summer holidays and the first day back at school, describe your school, understand and write a timetable, compare your school and a school in Israel, express and justify opinions about school subjects and teachers.

Israeli Schools  - compare primary and secondary school, describe what you wear to school, including likes and dislikes, discuss what is allowed and not allowed, express and justify an opinion about school uniform.

Term 2

Food – talk about what you have for breakfast, describe meals, understand and be able to order from a menu, describe a past visit to a restaurant, ask and answer questions about food

Friendships – describe someone's personality and characteristics, explain your family and friends, explain what activities you do with your friends

Term 3

 

Free time activities – talk about what you do in your spare time, discuss future and past plans, express and justify opinions about young people and use of technology. Ask and answer questions about favourite books, films and television programmes.

End of year assessment
Ivrit Year 9
 

 

Term 1 

 

Multiculturalism – Discuss multiculturalism, revision of numbers and countries, read about families who have made Aliyah from different countries and their stories (past and present). Researching the birth of Modern Hebrew and Ben Yehuda.

Visiting Israel  - expressing opinions, working with various tenses, Asking & answering questions about Israel,

Term 2

Visiting Israel –Talk about an upcoming trip to Israel, describe a past visit to Israel, understand and give directions. Visiting the doctor. 

The Druze community – Learn about the Druze community in Israel.

Term 3

Future plans – identifying patterns in future tense, talking about future careers, understanding authentic texts.

End of year assessment
Throughout the year assessments in all areas, listening, reading, speaking, writing take place.
GCSE Term by Term Plan
Year 10

Theme

Topic

Term 1

Identity and culture

Local, national, international and global areas of interest

Current and future study and employment

Identity and culture

Me, my family and friends, Relationships with family and friends

Home, town, neighbourhood and region

My studies

Free-time activities

Term 2

Local, national, international and global areas of interest

Current and future study and employment

Identity and culture

Local, national, international and global areas of interest

Social issues, Healthy/unhealthy living

Life at school/college

Customs and festivals in Hebrew-speaking countries/ communities

 

Term 3

Current and future study and employment

Identity and culture

 

Me, my family and friends, Marriage/partnership
Year 11

Theme

Topic

Term 1

Local, national, international and global areas of interest

 

Current and future study and employment

Identity and culture

Global issues, The environment

Social issues, Charity/voluntary work

Jobs, career choices and ambitions

Technology in everyday life

Term 2

 

Local, national, international and global areas of interest

 

Mock exam/assessment

Global issues, Poverty/ homelessness

Revision and preparation for assessment

Term 3

 

Assessment
More information can be found on the AQA website:
https://www.aqa.org.uk/subjects/languages/gcse/modern-hebrew-8678